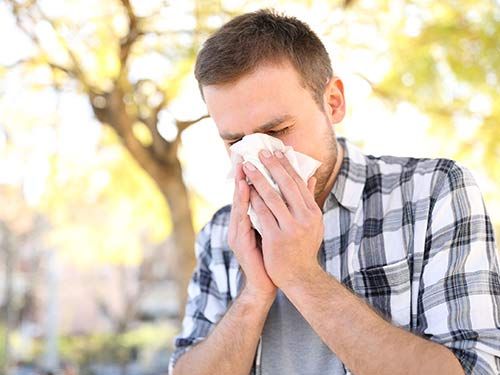 Chattanoogans know the Tennessee Valley can be quite an unforgiving place for those who suffer from seasonal allergies. This year, peak tree pollen season happened to fall right in line with the COVID-19 outbreak. Naturally, people are concerned. Are the symptoms they're experiencing simply due to seasonal allergies, or is there a chance they have contracted coronavirus?
Dr. Michael Hollie of the Allergy Asthma Group of Galen admits it's a tricky time to have bad allergies. One of the three main symptoms of coronavirus is fever and that is not a symptom experienced with allergies.
The primary difference between these ailments is that coronavirus is an infectious organism, while allergies are reactions to different allergens or substances like pollen, mold, dust mites, and more.
Common allergy symptoms:
Wet cough
Itchy eyes, ears, throat, and/or nose
Sneezing several times in a row
Stuffy and runny nose
COVID-19 symptoms (per CDC website):
Fever
Shortness of breath
Coughing
Muscle pain
Repeated shaking with chills
Sore throat
Chills
New loss of taste and smell
Even in the case of allergy symptoms turning into a sinus infection, a patient may experience minor body aches; however, they would likely be much more minor than those experienced in conjunction with COVID-19 or even the flu.
All this said, there is still some overlap in symptoms that can make self-diagnosis more difficult. For example, some doctors in Italy, China, Germany, and South Korea report that many COVID-19 positive patients experience loss of smell, and according to ENT UK, loss of smell is the sole symptom in some cases. This can cause confusion as loss of smell can also be a result of allergies. Another symptom that can be caused by either allergies or COVID-19 is conjunctivitis, or "pink eye."
If a patient is unable to determine whether their symptoms are caused by allergies or COVID-19, he or she should absolutely consult an allergy doctor.
"During this time, it's really important to stay in contact with your physician," Dr. Hollie said, who is now offering telehealth appointments to patients through Galen's Remote Access Care.
The team at the Allergy Asthma Group of Galen is committed to safety measures that protect patients and staff by:
Following CDC protocols for prevention of the spread of COVID-19
Screening patients either by phone or before entry into facility
Appropriately isolating patients who are potentially high risk
Referral for COVID-19 testing when appropriate, with thorough follow up
Reducing or eliminating waiting room times to limit each patient's exposure to other patients
COVID-19 FAQ
Do I keep my appointment?
Yes, if you have any questions, or would like to convert the visit to a telemedicine visit, please do not hesitate to contact us.
Can I still get my allergy shot?
Yes. Please be aware that we have changed procedures somewhat to protect patients and staff. This involves cleaning more frequently, less time in the waiting room, and encouraging you to wait in your car for 30 minutes after your shots rather than in the waiting rooms.
Can I bring my family to my appointment?
We are asking that visitors during your appointment be limited, ideally only the patient present, but if necessary, such as with a minor, that there be only one other family member present. This is for the safety of you, the patient, the family members, and our staff.
What are the symptoms of COVID-19?
Though they can vary from very mild to very severe, they often include fever, shortness of breath, and cough. Though sometimes hard to distinguish, allergy symptoms often are more related to nose and eye symptoms and do not involve fever. If you have questions as to whether you may have COVID-19, please call or otherwise contact us to discuss whether or not you should be seen.
Are there steps I can do to protect myself and my loved ones?
Wash your hands frequently
Practice social distancing when possible
Avoid touching your face
Clean frequently touched objects
Where can I go for additional information?
The CDC's Coronavirus Disease 2019 (COVID-19) hub should be your go to location for up to date information. John Hopkins map is an excellent source of data as well.
We know this is a trying time for all, but we want to assure you we remain committed to our goal– to provide relief to our patients whenever possible. This is as true for us now as ever before. We are here for you, Chattanooga!